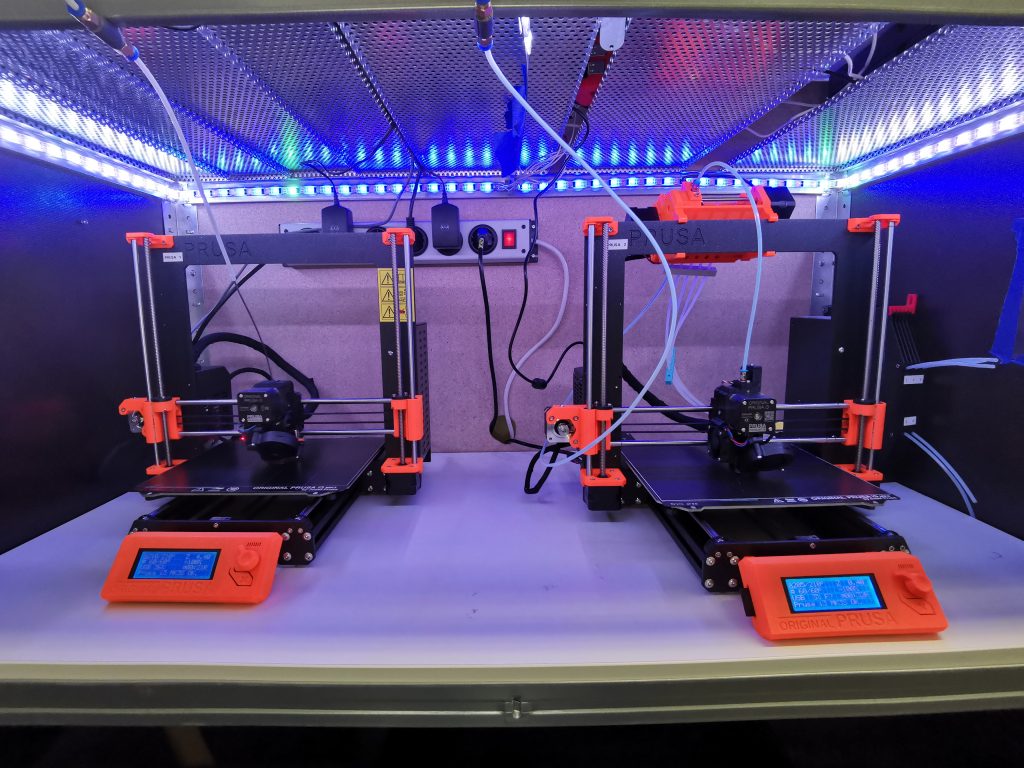 The eLab has several 3D printers for manufacturing plastic parts. We offer the manufacturing service to students and chairs for prototyping.
Costs
The costs are calculated from the filament price per gram and the lump sum for one printing process, which serves as a wear factor. It does not matter how many objects are placed on the print bed.
Design
3D objects can be designed using any CAD program such as FreeCAD, TinkerCAD, OpenSCAD, Blender, Inventor, Solidworks, Fusion360 or others and sent to us by e-mail in .stl format with all necessary parameters. These are mainly:
Layer height (0.1mm, 0.2mm, 0.3mm as well as 0.4mm)
Infill (in %)
Color
Quantity
After receiving the .stl file, it has to go through our slicer configuration and be adjusted to your printing needs. To do this, you select one of four slice heights. The lower the height, the finer but also more time-consuming the object will be printed. You can choose between layer heights of 0.1mm, 0.2mm, 0.3mm and 0.4mm.
In addition, the internal filling must be specified as a second parameter. For hollow objects approx. 10% infill, for full 100%.
Colors can also be specified. Write us to find out which colors are currently available.
NOTE! If you do not specify the object, we will independently determine the most appropriate configuration and color of the print.
Production
The printing process is started on one of the following 3D printers depending on the workload and requirements. All models print with the filament type PLA in the diameter of 1.75mm.
Models
The following models are currently available:
Original Prusa I3 MK3S with MMU2 and a print area of 250x210x210mm(WxDxH)
Original Prusa I3 MK3S with a print area of 250x210x210mm(WxDxH)
Currently out of service:
Geeetech Prusa i3 M201 Dual Extruder with a print area of max. 280x210x200mm (BxTxH)
Makerbot Replicator Mini with a print area of max. 100x100x125mm(BxTxH)
Contact
Inquiries about manufacturing or questions about 3D printing: